"There at the end we were going for the win. I wanted him to throw that one pass and, if it was complete, throw another. If incomplete, we run the ball on third down, punt and take our chances in sudden death."
Tom Landry, Cowboys coach, after Super Bowl V
This year marks the 44th anniversary of Super Bowl V, the championship game the football world seems to want to forget. It has slipped into the cracks of time, rarely taken seriously by historians of the sport, despite the fact that only three other Super Bowls (and none in the first 33) came as close to going into overtime.
The Baltimore Colts won the game, but years later still express regret about how poorly they played in it. The Dallas Cowboys lost the game, but their memories over the years have focused on the questionable official's call early in the second half that hurt them a lot — rather than the unthinkable play call late in the second half that hurt them even more.
For both Dallas and Baltimore, the 1960s had been a decade of nearly unbearable frustration. They were the losing teams in the greatest bad-weather game in pro football history — Packers 21, Cowboys 17, in "the Ice Bowl" — and most monumental upset in pro football history — Jets 16, Colts 7, in Super Bowl III. Those painful disappointments left lingering hangover effects. Dallas followed up its last-minute defeat in the frostbitten 1967 NFL title game with shockingly lopsided losses to underdog Cleveland in the 1968 and '69 playoffs. Baltimore, after losing just one regular-season game each in the 1967 and '68 seasons, finished a disappointing 8-5-1 in 1969.
Their championship clash in Miami that climaxed the 1970 season was marred by 14 penalties (10 against Dallas) and 11 turnovers (seven of them given away by Baltimore). Both defenses were fierce and, at times, heroic. The offenses, meanwhile, were frequently inept, seemingly tormented by the teams' previous failures in postseason games. "Those two teams seemed more nervous than any that have played in the Super Bowl," AFC president Lamar Hunt said at the time.
When players on the 1970 Colts reflect on their season in NFL Films' "America's Game" series, one emotion they express is that their victory over Dallas was bittersweet because of the way it was achieved.
"We were desperate to win and to look good doing it. We didn't want to just win; we wanted to win and be convincing," Baltimore center Bill Curry says. "We felt like we were tougher than the Dallas Cowboys. We felt like they could not stay with us for four quarters, if we went out there and took care of business: did not turn the ball over, played well in the kicking game, and just flat whup 'em physically. We thought we could do that. Now, we didn't do any of those things. We didn't whup 'em physically, we didn't take good care of the football, we didn't play well in the kicking game — we didn't do any of that stuff."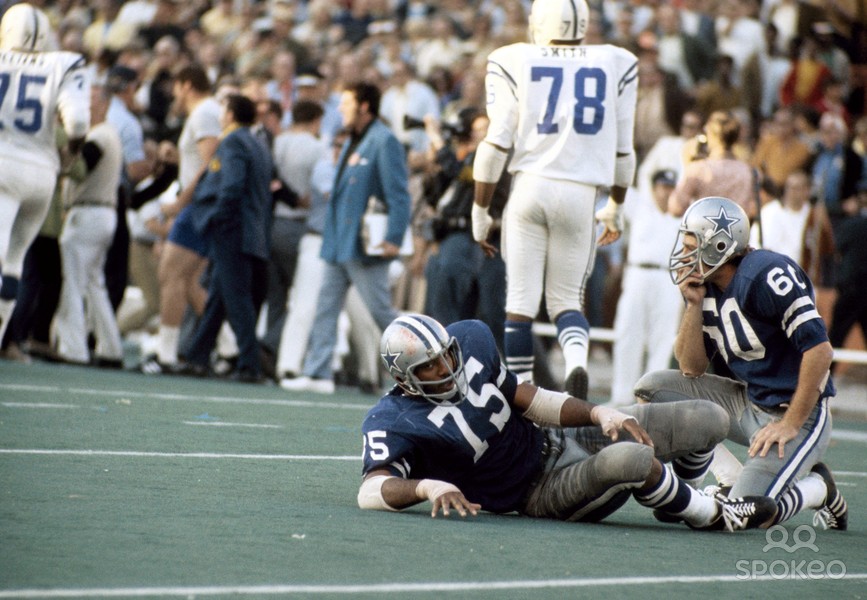 In a sense, it was the Super Bowl nobody won. Baltimore didn't win it so much as Dallas lost it. And the NFL itself came out a loser, too, because the Super Bowl that could have gone down as only the fourth sudden-death overtime game in pro football history instead is remembered — or rather forgotten — as a comedy of errors.
"I think they were pressing too hard sometimes," Colts middle linebacker Mike Curtis says in his "America's Game" interview. " … I think a lot of those guys put a lot of pressure on themselves, to push harder — for both sides. I think that's why it was a carnival."
The bizarre afternoon at the Orange Bowl ultimately teetered on three tipped passes — all of which were caught by the Colts, setting up all 16 of their points in a 16-13 victory. But the third tipped pass never should have been thrown.
Second down, 35 yards to go. Ball at the Dallas 27-yard line. A little over a minute left, score tied 13-13.
Confused ref, not Landry, gets blamed
This is the first Super Bowl that I have personal memories of. I was in second grade, but my three older brothers had provided enough of a football education for me to think I could actually understand the game. My favorite team at the time was the Cowboys. To this day, my favorite player is Bob Lilly, my favorite quarterback is Roger Staubach … and my favorite football coach is Tom Landry.
So it was with some reluctance that I searched for an answer to this question: On second-and-35 from the Dallas 27, was Landry the man responsible for the worst play call the game has ever seen?
History has been kind to Landry with regard to this particular decision. Although the coach called the plays for quarterback Craig Morton, Landry has largely escaped blame for the high-risk, low-reward pass that landed in Curtis' heavily bandaged arms and put Baltimore in position for Jim O'Brien's game-winning field goal.
There are many reasons for this, but the main one is Duane Thomas' goal-line fumble on Dallas' first possession of the second half. Cowboys center Dave Manders recovered, but Colts defensive tackle Billy Ray Smith was so convincing in his celebration that line judge Jack Fette mistakenly awarded possession to Baltimore. It is this blown call — not their foolish decision to throw when playing for overtime was clearly the better choice — that the 1970 Cowboys point to as the stroke of misfortune they could not overcome.
"The ball came right to me," Manders recalled in a column published by The Baltimore Sun in 1993. "I was all by myself in this little space. Nobody was even around me so there was no judgment call about whether one player had more of the ball than the other guy.
"Billy Ray Smith jumped on my back and started yelling, 'I've got the ball; I've got the ball.' Without hesitation, Jack Fette turned and signaled, 'First down, Baltimore.' I handed Fette the ball. Craig Morton and I argued, but he told us, 'One more word and you two are out of the game.' " Dallas' center and quarterback were joined in the argument by their normally stoic coach, in what was for him a rare display of outrage. "I ran down the sideline screaming to the officials. But my protests made no difference," Landry writes in his 1990 autobiography.
Dallas led 13-6 at the time of the controversial fumble, and Landry claimed that Baltimore would not have been able to come back from a two-touchdown deficit against a Cowboys defense that had given up just two touchdowns since mid-November. He wasn't the only one who felt that way. "Manders … believes a 20-6 lead, since scoring was so limited, would have resulted in a Super Bowl triumph. This observer, a non-partisan, is in agreement with the theory," John Steadman writes in his 1993 Sun column. Steadman concludes by saying, "A player convinced an official of something that never happened and it makes for an eventful, intriguing chapter in Super Bowl history."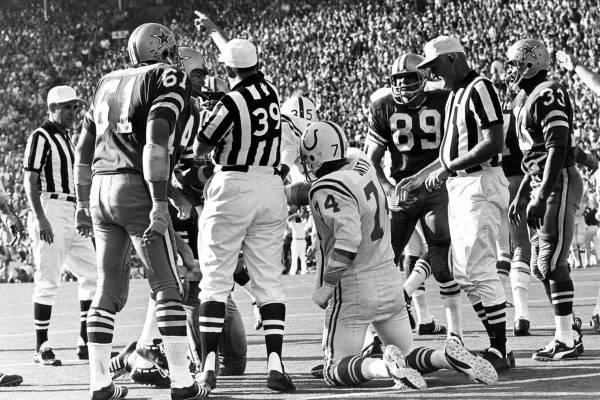 The focus through the years on Thomas' fumble diverts attention away from the decision to risk a short-yardage throw on second-and-35. Then again, this unusual game was marred by so many blunders both mental and physical that it is difficult to identify which mistake was the most costly. Even winning coach Don McCafferty made a puzzling decision that blew up in his face: On the next-to-last play of the first half, McCafferty went for it on fourth-and-goal from the Dallas 2. Earl Morrall's pass to tight end Tom Mitchell was incomplete, which is how Dallas walked off with a seven-point halftime lead in the first place.
Such brain cramps would have made great fodder for sports-talk radio and social media, if either of them existed on January 17, 1971. This was also eight full years before ESPN was founded, so there was no all-sports cable television network to analyze the teams' every move. The TV coverage that did exist was still in its early stages of development. For example, cameras were placed on only one side of the field — no one had developed a "reverse angle" replay yet — and NBC brought to the game a relatively small crew of announcers and cameramen, led by play-by-play voice Curt Goudy.
In the broadcast (available on YouTube), Manders clearly has the football as the players unpile; he holds the ball up, shaking it, to prove he had recovered Thomas' fumble. Manders rises to his feet angrily and immediately gets nose-to-nose with an official, but the Cowboys have little time to argue because no commercials are shown before the Colts take possession. "Dallas is unhappy now," Gowdy says, adding, "Craig Morton, letting the officials have it as he comes off (the field)." Yet neither Gowdy nor color commentator Kyle Rote questions the accuracy of the officials' call. A replay is shown from an end-zone angle, but the NBC producers return to live action before a clear recovery of the fumble can be established. "It looked like Billy Ray Smith, 74, recovered it," Rote says, to which Gowdy responds: "Or Mike Curtis, one of the two, in that pileup." And that's it — end of discussion.
It also must be remembered that graphics during telecasts back then consisted of little more than occasional reminders of what the score was. Nothing like a "Fox box" existed to remind viewers of the down, distance and time remaining, so the millions watching from home easily could have lost track of how foolish it was for Dallas to throw the ball when it had no realistic chance of moving into first-down territory or field-goal range in the final minute.
Slipping through the cracks of history
Usually, NFL Films can be counted on to shed light on games from this era, but for Super Bowl V, Steve Sabol and his crew were more fancy than fact-filled. Their highlight reel of the game, rerun on television frequently in the years since, isn't so much a documentary as it is an impressionist painting. The final minutes of the game are presented as a montage of dramatic sounds and images, including player wirings (not all of them recorded during Super Bowl V), violent collisions that flash across the screen, and a musical score that includes part of Tchaikovsky's March Slav. All that noise and fury paints the finish in colors of heroism, with not even a hint of second-guessing whether to throw the ball on the play that resulted in Curtis' game-turning interception.
More than 40 years later, even the informative, detail-filled "America's Game" documentary fails to mention that Dallas — a run-oriented team with a sore-armed quarterback — ultimately gave the game away by throwing the ball on second-and-35 from its own 27 with a minute left and the score tied. In the "America's Game" episode on the 1970 Colts, the narrator cites Curtis' interception as "the most important play of Super Bowl V." But in the "America's Game" episode on the 1971 Cowboys, players on that Dallas team point instead to Thomas' fumble, which gave the Colts possession at their 1-yard line with 11:08 remaining in the third quarter.
For the rest of the game — nearly two full quarters — the Cowboys' longest drive was just 33 yards, or 2 less than the yardage needed on second-and-35. They did have a second-year backup quarterback from Navy available, and his throwing arm was healthier than Morton's. But the inexperienced Staubach never got a chance to inject his never-give-up-the-ship attitude into the listless Dallas attack.
"If Morton was a pitcher in baseball he would have been knocked out in the first inning," Cowboys Hall of Fame cornerback Herb Adderley is quoted as saying in the 1997 book Cotton Bowl Days. "He overthrew Duane on one wide-open touchdown and missed a lot of passes. Landry wouldn't put Staubach in. Morton played worse that day than any quarterback I'd ever seen in a big game, but Landry was set in his ways and stubborn enough not to make a change."
With 9:11 left in the game, the ball bounced Dallas' way when a Baltimore fumble went through the back of the end zone for a touchback, the Colts' final turnover of the day. But on the very next possession, Morton threw high for running back Walt Garrison, who tipped the ball into the hands of Rick Volk, a Baltimore safety. Volk returned the interception to the Dallas 3, setting up the tying touchdown.
With 4:03 remaining, Dallas punter Ron Widby executed a successful coffin-corner kick, pinning the Colts back to their own 5-yard line. Baltimore kept the ball on the ground and went three-and-out, and David Lee's ensuing kick went just 38 yards and out of bounds. Despite the bad breaks — Thomas' goal-line fumble, plus the Colts' first touchdown, which was legal only because it barely made contact with a Dallas defender's finger — the Cowboys appeared to be sitting pretty. An exchange of punts left them in position to start a drive at the Baltimore 48 with 1:51 remaining in the game.
At that point, overtime seemed like the worst-case scenario for Dallas. But after a 1-yard loss on first down, the Cowboys fell victim to a rule that would soon be legislated out of the game. Tackle Ralph Neely was called for holding, which at the time was a 15-yard penalty — not 10 yards — with the walk-off starting from the spot of the foul if the infraction took place behind the line of scrimmage. The officials ruled that Neely was holding 9 yards behind the line, making it in total a 24-yard penalty (In the photo of the play below, notice the penalty flag near the leg of Neely, No. 73).
The down did not count, but the drive had been killed. Now it was second-and-35.
Error worse than Pisarcik's fumble
The botched handoff that Eagles cornerback Herm Edwards returned for a touchdown in the final seconds against the New York Giants in 1978 has gone down as one of the most infamous errors in NFL history. The stunning 19-17 loss led to a shakeup of the Giants' coaching staff and contributed to the popularity of the "victory formation." Before long, it became standard operating procedure for the winning team to snap the ball and kneel to run out the clock at the end of a game.
But the "Miracle of the Meadowlands" was just a regular-season game. Considering what was at stake, Morton's failure to secure the ball at the end of the fourth quarter in Super Bowl V was a more grievous mistake than Giants quarterback Joe Pisarcik's memorable failure to do the same against Philadelphia.
The question is: Whose call was it — Landry's or Morton's?
To that point in NFL history, there had been just three games decided in overtime (two of them involving the Colts), so journalists were still figuring out how to report on such a scenario. This may explain a befuddling phrase by reporter Norm Miller, who wrote in the New York Daily News that "Morton had no alternative but to pass" on second-and-35. Other game reports of the period pinned the blame for the decision to throw on Morton. In his 1972 book Super Bowl! Newark Star-Ledger reporter Dave Klein writes that Morton, "staring the clock straight in the eyes, went counter to all logic and threw big, long and beautifully available." Tex Maule of Sports Illustrated described the game-deciding turnover this way: "Not wanting to settle for a tie in regulation play and face the hazards of sudden-death, Morton tried another pass. The ball bounced off the fingers of (Dan) Reeves, who might have caught it, and was intercepted by Linebacker Mike Curtis who returned it to the Cowboy 28."
But the 1970 Cowboys, unlike almost every other NFL team that season, did not let the quarterback call his own plays. Landry utilized tight ends Pettis Norman and Mike Ditka to relay his messages from the sideline to the huddle. "Craig and I are very close," Landry said. "I keep impressing on him that he is an excellent play selector, probably the best one we've ever had in Dallas. But we'll do everything we need to win."
"Tom started calling the plays because he thought I'd gotten too conservative," Morton said the week before Super Bowl V. " … And we won that game, so he called them the next week, too. And we kept winning, so you don't change a winning combination."
In their seven-game streak leading up to that Super Bowl, the Cowboys' "winning combination" was a dominant defense complemented by a run-oriented, conservative offense. Led by Lilly, a legendary tackle, Dallas' "Doomsday Defense" put together a string of 23 quarters — nearly six full games — without giving up a touchdown. The streak included the Cowboys' first playoff win that season, a 5-0 victory over the Detroit Lions in which Morton completed only 4 of 18 passes and Dallas' longest offensive play went just 20 yards.
A slightly better performance against the 49ers the following week gave Morton a two-game total of 11 completions in 40 attempts for the playoffs. He connected with Hall of Fame pass catchers Bob Hayes and Ditka only once each, for a total of 25 yards. Dallas' offense instead relied on Thomas, a rookie, who rushed for 135 yards against Detroit and 143 in the 17-10 victory at San Francisco. In those two games, Thomas ran the ball 17 more times than Morton threw it.
"In the playoffs, we didn't have much of a passing game because Craig was having arm trouble," Landry is quoted as saying in Staubach's 1974 autobiography First Down, Lifetime to Go. "We just continued to emphasize our running game. When we needed to pass, we would just drop it off short and not try to go deep. We just felt our defense could hold anybody."
In sessions with the media the week before the Super Bowl, some journalists questioned Morton's value to the team. "They ask me about Tom calling all the plays," Morton told Steve Perkins, a reporter covering the Cowboys. "They want to know if my arm is sore, because we mostly ran the ball in the playoff games. What they really want to ask me is, 'Besides handing off, what the hell do you do?' " In a story published in Sports Illustrated that week, Morton acknowledged that he did have the okay to change a play at the line of scrimmage if the defensive alignment was set up to stop Landry's play call. "Against the 49ers, I called 10 or 12 audibles, most of them pitchouts to Duane Thomas," Morton told SI.
So the 1970 Cowboys ran and ran and ran — except on the play that mattered most.
Cotton Bowl Days author John Eisenberg, mistakenly citing the down and distance as third-and-34, puts the decision to throw on Morton's shoulders. "Landry had called almost all of the plays in the game, … but Morton called the third-down play because the clock was running and there was no time to run messengers in and out of the game," he writes. "Morton called '13 takeoff,' a pass to Dan Reeves, who would either run a post or go into a hole in the Colts' zone. A handoff would have been more prudent considering how much yardage was needed for a first down; the Cowboys would have been wise to run the clock out and try to win in overtime. Yet Landry would not second-guess Morton's call after the game. 'We were not thinking about running out the clock,' Landry said."
I disagree with some details in Eisenberg's account. One, since a penalty had been called on the previous play, the clock would have stopped and the offense would not have been in hurry-up mode. Landry had the time to shuttle in personnel for a running play, if he so chose. The fact that Reeves was the intended receiver on the play suggests that the decision to throw was Landry's — not Morton's. Reeves, in the first of his nine Super Bowls as a player or coach, was the running back Landry used in passing situations at the time. He had no carries but five receptions in that Super Bowl, and the fact that Reeves was on the field at all suggests that Landry was the one who chose to throw the ball.
In 1972, shortly after Landry's team had finally climbed to the pinnacle of the sport by crushing Miami in Super Bowl VI, Perkins' book The Dallas Cowboys: Winning the Big One was published. And it was in this obscure, out-of-print but well-written book that I discovered a startling admission. Tom Landry, in the post-game locker room after Super Bowl V, said this about the decision to throw on second-and-35 from his own 27 with a minute left in a tie game: "There at the end we were going for the win. I wanted him to throw that one pass and, if it was complete, throw another. If incomplete, we run the ball on third down, punt and take our chances in sudden death."
There it was — one of the most innovative football minds the game has ever known, and normally a superb play-caller, acknowledging the biggest mistake of his coaching career. Yet because of circumstances, Landry was never taken to task for the not-so-bright decision that helped give the blue-jersey jinx an enduring place in Dallas Cowboys lore — and gave the Baltimore Colts a championship the Colts themselves are not so sure they deserved.
With just over a minute to play, an ill-advised Craig Morton pass was intercepted by Baltimore linebacker Mike Curtis. A few plays later, rookie Jim O'Brien kicked the 32-yard field goal that made the Colts champions. The Cowboys were so close, yet so far.
From a summary I wrote for my Super Bowl scrapbook in 1978
Bibliography
Play-by-play account from The Super Bowl: Celebrating a Quarter-Century of America's Greatest Game, Simon and Schuster (1990). Other statistics from pro-football-reference.com.
Video sources cited in text.
Newspaper articles (archived online):
"Colts Save Kick for Final 5 Seconds: O'Brien FG nips Dallas, 16-13," by Norm Miller, New York Daily News, January 18, 1971.
"At bottom of 22-year pile, ex-Cowboy still insists he, not Colts, had fumble," by John Steadman, The Baltimore Sun, February 3, 1993.
Magazine articles:
"An Act, Followed by an Act, Followed by an Act," by Robert F. Jones, Sports Illustrated, January 18, 1971.
"Eleven Big Mistakes," by Tex Maule, Sports Illustrated, January 25, 1971 (archived online).
McDonald's History of the Super Bowl, Volume 2, NFL Properties, Inc. (1977).
Books:
Super Bowl, New and Revised Edition, by Marty Ralbovsky, Hawthorn Books, Inc. (1971, 1972).
The Dallas Cowboys: Winning the Big One, by Steve Perkins, Grosset & Dunlap (1972).
Super Bowl! By Dave Klein, Stadia Sports Publishing, Inc. (1972).
Staubach: First Down, Lifetime To Go, by Roger Staubach with Sam Blair and Bob St. John, Word, Incorporated (1974).
The NFL's Official Encyclopedic History of Professional Football, by NFL Properties, Inc., Rutledge Books/Macmillan Publishing Co., Inc. (1977).
The Man Inside … Landry, by Bob St. John, Word, Incorporated (1979).
Super Sundays I-XIII, by Lou Sahadi, Contemporary Books, Inc. (1979).
Time Enough To Win, by Roger Staubach with Frank Luksa, Word, Incorporated (1980).
The Super Bowl: Celebrating a Quarter-Century of America's Greatest Game, chapter on Super Bowl V by Bill McGrane. Simon and Schuster (1990).
Tom Landry, An Autobiography, with Gregg Lewis, Zondervan Publishing House and HarperCollinsPublishers (1990).
God's Coach: The Hymns, Hype, and Hypocrisy of Tom Landry's Cowboys, by Skip Bayless, Simon and Schuster (1990).
Cotton Bowl Days: Growing Up with Dallas and the Cowboys in the 1960s, by John Eisenberg, Simon & Schuster (1997).
Cowboys Have Always Been My Heroes, by Peter Golenbock, Warner Books, Inc. (1997).